#TIMESUP
By: LUCY BOOTH, Publicist
Sexual assault, harassment, and inequality in the workforce are central issues that the Time's Up movement is broadcasting. Time's Up exposes sexual predators, such as Harvey Weinstein, Michael Oreskes, Kevin Spacey, Charlie Rose, Larry Nassar, Senator Al Franken, Senator Trent Franks, Matt Lauer, and Roy Moore. The Time's Up movement shows the magnitude of rape culture by using the hashtag "#metoo" to spread awareness through social media. The main goal of the movement, however, is to raise money for a legal defense fund that offers free legal services to victims of sexual assault who can't pay for an attorney. The "#metoo" hashtag was first used in 2006 by Tarana Burke on her MySpace page to create a community of support for abused young girls. Celebrities like Alyssa Milano, Gwyneth Paltrow, Angelina Jolie, and Ashley Judd have encouraged others to come forward by posting #metoo and sharing their own stories of sexual harassment.
With the movement to stop sexual assault, rises also the struggle of gender equality. Some victims of sexual assault have blamed the imbalance of power between men and women, which has created the pervasive oppression of women. This is unfortunately often evident in the workforce, a prime example being Matt Lauer. Lauer, a national figure from the Today show, was fired after several allegations of sexual assault. After being fired, the show replaced him with a new anchor, Hoda Kotb; along the way, reports indicate that Kotb is being paid significantly less than Lauer's $20 million income. While there are real reasons for this - Hoda has not been on the show as long and is not as famous, for instance - a backlash has emerged regarding the figures from women's rights campaigns.
Meanwhile, during the 2018 Golden Globes, 300 actresses dressed in black to represent their support the the Time's Up movement. This highlighted the growing prominence of the movement in society. This year's Golden Globes was centered on the recent allegations because so many have occurred in the entertainment world. Seth Meyers opened the Globes by saying that Harvey Weinstein was not welcome, and Natalie Portman addressed the male-dominated field by pointedly announcing "all the male nominees" for best director.
The strength created by the #metoo movement and the blackout statement at the Golden Globes has helped show the power of women united. With that in mind, some students at Marymount chose to show their support of the movement by wearing black to school on Monday, January 8th. For everyone, meanwhile, no matter their views on the strategies of these particular movements, this is an exciting time to be a woman. Many Marymount students feel ignited by the current climate and seek to continue to do their part to break the deeply rooted molds of what it means to be a woman in society. That is evident in some responses we at the Joritan have recently gathered regarding these events. We are printing them here:
"I support the Time's Up movement and the decision to wear black to school. I think it is very important that we stop tolerating sexual harassment, assault, and inequality in the workplace. However, I think that if Harvey Weinstein was at the Golden Globes, he too would have worn black. Many people wore black because they didn't want to disappoint their fans. Moreover, those same people were the ones who were fully aware of sexual assault, harassment, and inequality and didn't lift a finger to stop it or help out. I think these people minimize the effect of the movement." -Kathleen Staunton (IX)
"I was happy our [student body] recognized what is in the news and put it into action; even though not everyone took part. I felt inspired that I could express my opinion and my school community would support me." - Alex Brown (XII)
"By wearing black to school that Monday we were showing our support to all of the people who have been sexually assaulted and harassed. Although we can not do anything to change what has happened, we have been able to help these innocent people recover and get past these terrible situations." - Anonymous Marymount student
"I think the Time's Up movement is a great way to bring awareness to the issue of sexual assault. My only issue is that at times it can feel as though the issue is glamorized when celebrities use it as a way to show how 'politically involved' they are. Despite this, I think the movement is a great way to shine a light on an issue that has been a part of the Hollywood culture for decades." -Sophie Michels (XI)
FEATURED ARTIST: NAOMI HORSFORD
By: AMAYAH SPENCE, Co-Editor-in-Chief
It's 4:08. Most students are finishing up after school activities and heading home. But Naomi Horsford is in the art room placing a hollowed out watermelon atop her classmate's head for a photography piece she's currently working on.
"It's a weird process I go through," Naomi says in regards to conceiving the idea to create this piece. Naomi's portfolio is centered around the theme of hair – how she came to accept her natural hair, how it represents her heritage, the way it can be used as a form of expression.
This piece in particular is about the way people see and characterize black hair. Using foods most stereotypically associated with black people, Naomi portrays her model (in this case, her classmate, Amayah Spence) in an "uncivilized" way in order to show how too many people see black women with natural hair.
Naomi directs Amayah to stand on top of paper towel and then pours a cup of watermelon juice down her forehead, cheeks, nose, and chin. The juice drips down Amayah's neck and onto shirt.
Indeed, this project is of a piece with Naomi's larger engagement with society: it is in this context that she spends a great deal of time reflecting on her hair. "Your hair is not important, but at the same time you can make it important," she says. "It could mean a lot to you, and it could mean a lot to your heritage." There were after all black kings and queens throughout African history, but Naomi believes that too often people in of African descent in America forget. Many would be interested to know, for example, that braids in medieval Africa often were a mark of class and status, and that accessories and seashells also could carry similar symbolic power.
Naomi observes, "It's easy when you're living" the experience of your portfolio. That is to say, for her, going through the process of accepting and appreciating her hair - and changing her hair so often last year - served as a constant source of new inspiration.
Naomi places a chunk of watermelon on Amayah's nose. She takes a step back, ponders her next movement for a moment, and then decisively plops another piece of watermelon above Amayah's left eye. She then commands, "Open your mouth," and positions another chunk of watermelon coming out of her mouth.
"As a kid, I wanted to be a fashion designer, and that's all I thought about. It was all I thought I wanted to be," Naomi says. After taking classes at the Fashion Institute of Technology, she realized fashion wasn't for her and gave up art until junior year. However, when she went back to art she realized she had to get back to that exciting environment she had loved so much years ago.
Now Naomi is not focused on fashion (though she still has a big appreciation for it) but is instead focused more on photography and making collages. These mediums of art allow her to convey her message without having to focus on the technical training skills necessary to paint or draw.
Naomi takes out her camera, adjusts the zoom, turns on flash, points it at Amayah, and begins shooting.
In the future, Naomi hopes to integrate her passion for art into whatever field she chooses. She likes the idea of becoming an architect because it allows her to "do both" – combining her talent in both art and math.
Naomi climbs on top of a table in front of Amayah in order to get a new angle. She switches to kneeling on the table. Finally she hops off the table and stands to the left of Amayah in order to get a profile view.
"If you look at artists in our school, their work is so powerful, and it could have an impact on our school that's bigger than it [is] now," Naomi says. It's usually only artists and other people who enter the art room that see most of the art that's produced at Marymount. But Naomi hopes in the future, art will impact more people at Marymount.
Naomi inspects the multitude of photos she has taken so far. She gives a nod of satisfaction to a few in particular just before her camera dies. She takes the watermelon off of Amayah's head and tosses it into the garbage bin, picks up the paper towels from the floor, and finally, gets a damp paper towel to clean Amayah's face.
Naomi explains that doing a portfolio where the entirety of her work is about her hair has been a transformative experience both for how she sees art and how she sees her hair. For her, creating art and growing to love her natural hair have been "a form of myself and how I want to express myself."
WOW SUMMIT PHOTO ESSAY
By: MARINA BIEN-AIME, Columnist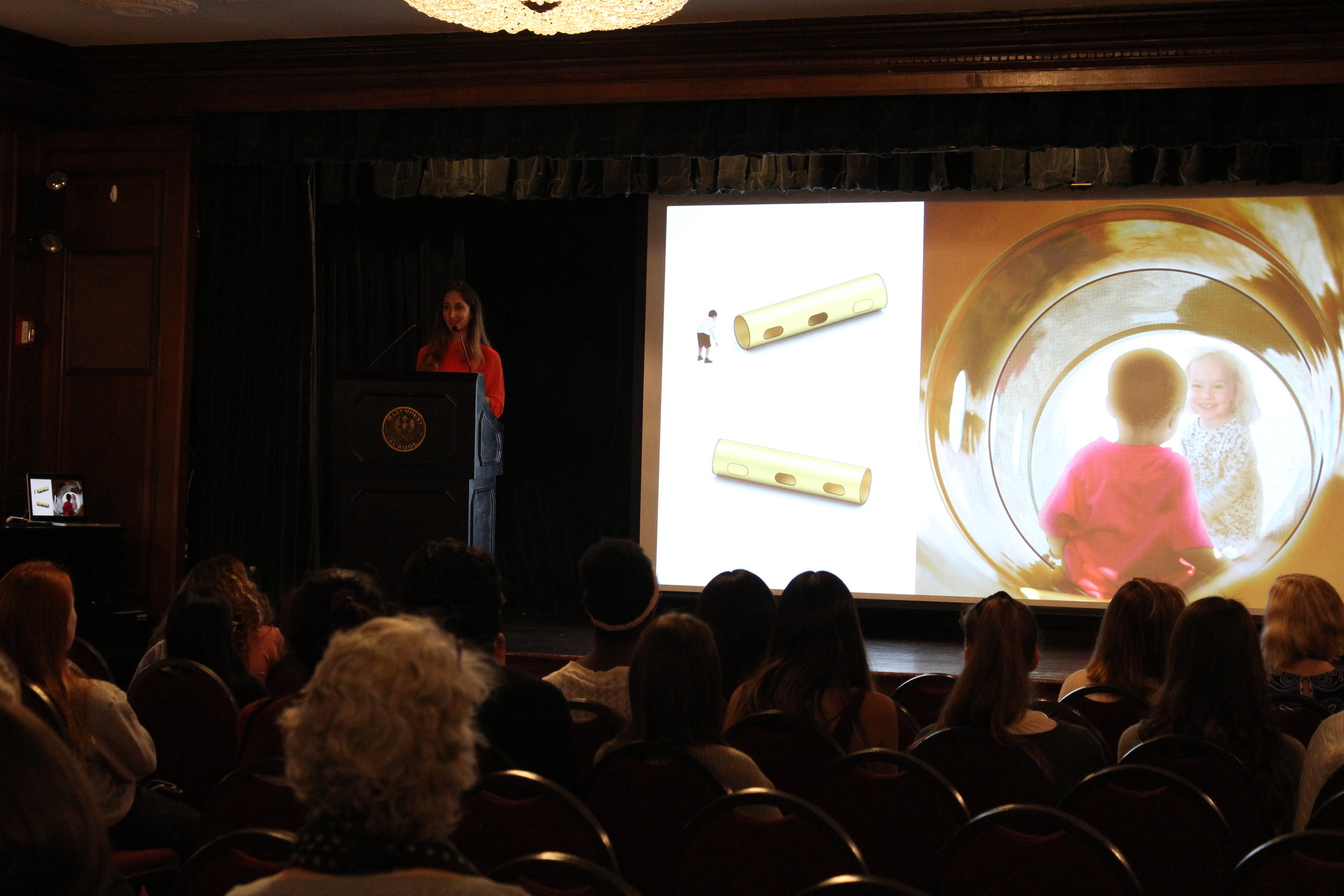 Click through to view photos taken by Marina B-A ('18) during the 2nd Annual W.O.W. Summit!
MEET FIELD HOCKEY
By: CATHY SHI, Digital Editor-in-Chief
Sports is an integral part of the Marymount community, evident through the dedication and effort each and every student puts into the endeavor. Although each sport is awarded with points and ranked within the league, Marymount students take an unconventional perspective, and do not consider earning less points than an opposing team as "losing" the game. Take Marymount's field hockey team, for example. Many students joke about the "lack of success" Marymount faces with respect to points, and field hockey often takes the brunt of the jokes. However, Varsity Field Hockey, together with Spence's field hockey team, go out to practice or compete in a game with a fresh and vivacious enthusiasm every single day, even practicing on Tuesdays and weekends. There is an evident passion for playing on the team, even if it means going up against the administration and fighting for their team. This 2017 fall sports season, the field hockey team has already won an intense game against Masters, a 100% improvement rate from recent years. To the girls on the field hockey team, the pride of merely being a part of the team is more important than winning games, although winning is high on their list of priorities as well. I encourage everyone to watch the video I created on our new website's (https://joritan.com) online exclusive page to learn more about the effort the girls put into practice and games, and their thoughts about being on the field hockey team.
Little Women Photo Essay
By: TRUDI GARNETT, Staff Writer